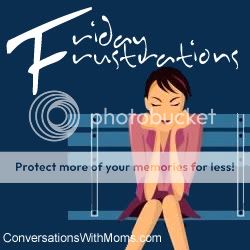 My main frustration right now is Entrecard and Adgitize....grrrrr...
For the last several days EC has been working only sporadically... I've been really busy this week and have had lil time to spend visiting blogs and dropping EC's... between my computer running slow and the EC drop button not showing more than half the time it's been very difficult to get much done.
Adgitize
hasn't helped since they changed their list of "blogs not dropped on today" to the preferred blogs list (or whatever they are calling it)... because now it does list ones I've already clicked on so I can't even depend on that to go to unclicked ones. Also speaking of
Adgitize
... I've been trying for 3 months now to earn the $14 just get my ad on there.... and I'm still lacking about $5.... so I'm frustrated that it hasn't added up a lil faster.... at this rate I still won't have the complete amount even after another month :(
Another frustration.... I decided to try
The Grocery Game
... I've been thinking about it for awhile... this week was pay week and grocery shopping time... so Monday I signed up hoping to find great deals and make getting my list done easier and quicker. Well... it wasn't.... I spent over 6 hours on Monday getting familiar with using it (it'll be be quicker next time because I know how it works now).... and getting my coupons and list together. I was doing like it suggested and just marking my coupon flyers with the date they came in the paper... this is how they tell you where to find the coupons to get the great deals. Well it took forever to find them that way because I had to keep going back through each flyer every time I wanted to find a coupon and there were tons that I wanted to find. So most of Monday was spent getting my shopping plan ready. It also didn't help that my old printer (the only one that has ink in it) would not print my lists from the website... that would have made things much easier and faster as well. So I've decided that I need to clip all of these coupons (100's 0f them) and file them alphabetically so I can find them faster. This is a task that I've been needing to do for quite some time... and one that will take hours :( Then it took the majority of Tuesday and Wednesday to do the actual shopping because I went to 7 different stores... I got a late start on Tuesday so I had to carry it over to Wednesday... and I had to drag Steffers along which makes everything take longer.
I have to say that I did find quite a few bargains by using
The Grocery Game
... so we'll see how it goes next trip (in 2 weeks).... if you want to give it a try they offer a free 4 week Trial Membership... and please list me as the person who referred you ALilEnchanted@gmail.com.... I can earn free weeks of membership :)
I'm still frustrated with the condition of my home... though I've been making myself spend more time cleaning. I really need to spend some major time focusing on getting it into shape.... it's almost fall and that means fall decorating... and then Christmas decorating etc.... and I always get the cleaning bug in the fall.... most people Spring Clean.... I Fall Clean. Soooo I've been seriously considering taking a week off from blogging to focus on my home... I haven't decided yet if I can have the will power to do it....lol... but I'll let you know if I decide to go through with it. I really do need to do this. Maybe now would be a great time since EC isn't working well anyways.... but geez I'll miss everyone :( .... I'll let you know in a few days what I decide to do.
Time seems to always be my biggest frustration... I need a few clones so I can get everything done.... can they speed up the process on that clone thing??? lol
A Lil Enchanted,
~LaShan~