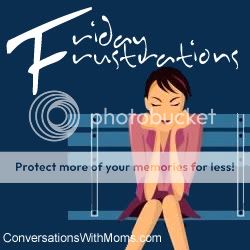 I am sooo frustrated that my 4 year old... who used to be a sweet lil girl who was cooperative and loved to learn and who pretty much obeyed when I told her to do something or not to do something... has become very stubborn and downright oppositional and has no interest in paying attention when I try to teach her anything. I tell her not to do something and she just flat out does it anyway... with me standing right there watching her and telling her she had better not and why. Or if I tell her to do something she just does not do it and then lies and says she did.
You know I have 3 grown children... and they were very difficult. They were all 3 born within 1 year... Sarah was 11 months old when the boys were born.... and they were all ADHD and Sarah is Bipolar as well. They were by no means whatsoever easy children to raise. For several years... their preteen and teen years... it was pretty scary around here... I was afraid they would kill each other or even me... seriously. I had to hide anything that could be used as a weapon... my kitchen knives were hidden in my bedroom closet... ball bats... golf clubs... any thing that could do serious damage was hidden. You should see the holes they put in my walls. Thankfully we all survived and I'm happy to say that they have all matured a lot and I no longer worry about the damage they might do to others.
When I got pregnant with Steffie I thought 'If I can survive that... this one should be a breeze... one child as opposed to 3... different genetics so no ADHD... plus the lessons I learned while parenting them.... right??? Well things aren't looking so great. I'm wondering if maybe Steffie is ADHD as well.... the child bounces off the walls all day... never stops talking... and has become pretty rude and demanding... and her attention span was longer when she was 2! I really wanted to homeschool her... I don't want her exposed to all of the bad attitudes and risky behaviour that goes on in public school... I don't want to wonder if my child is safe from violence and drugs and sexual behaviour everyday. I don't want to deal with the people who run our public school system and all of their judgemental attitudes and worrying about things that have nothing to do with whether my child is getting educated or not... like whether her shirt is tucked in... or has a collar on it... or what color her hair is... or how many piercings she might have (someday)..... or saying she has to go to school when she's sick because she can't miss too many days or their funding gets cut... or those pain in the ass fundraisers that kids have to do... and the hours and hours of homework she'll have to do after sitting in class all day already. I want better for her!
I want her to learn at her own pace in a way that is best for her learning style... I want her to be free to express herself in her appearance however she wants... I want her to feel safe and loved... and not have to worry about bullies... or doing what everyone else is doing just to be popular. I just want so much better for her as she grows up.
But now I'm questioning my own ability to teach her... she just refuses to pay attention when I try to teach her anything.... I know she's young... but she's 4... she's old enough to start learning to read and write.... she just will not sit still and listen even for a short time. She has known her alphabet since she was 2... and I mean really known it... not just singing the song... she knew each letter and a word that began with each one... she knows the phonics already... she can count to 100 with very little help... she knew her colors when she was 1... she can use the mouse and surf the web like no other 4 year old I've ever seen. But she refuses to write a B... just won't do it.... and it was she who asked to do her B writing lesson. It feels like she's toying with me... trying in any and every way to get under my skin. Aren't kids supposed to want to please their parents at this age? Don't the "I hate you"s come much later??? She told me the other day that she hates me... where did she learn that??? I know she doesn't hate me... but sometimes it sure feels like she's trying in every way possible to be downright mean to me. And then all of a sudden she's hugging me again and telling me she loves me and that I'm the best Mommy ever. She goes from downright brat to sweet as pie in a split second.
Am I expecting too much? Can I homeschool this child and still keep my sanity? Will her defiance get better as she turns 5? Will I cave and send her to school next year? I dunno...
A Lil Enchanted,
~LaShan~