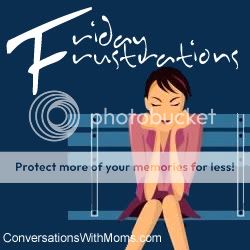 1 - Hmmm... well I wanted to participate in this and vent my frustrations with the never ending pile of dishes that fills my sink. Myself (of course).... my husband.... and my 3 year old live here... along with my 20 year old daughter.... and just recently my 19 year old son just moved back in. Everyone eats.... but no one wants to lift a finger to do a dish! They just eat and then pile their dishes in the sink and leave them there. They assume I guess.... that since I'm a stay-at-home Mom that it's my duty to do their dishes. Now of course the 3 year old can't do hers yet.... but everyone else can! Why is it soooo hard to rinse the food off your dish that you just ate out of and put it into the dishwasher that is right beside the sink????
And... if someone else cooks anything.... that's even worse! Because then I have to wash the dishes and clean up the rest of the mess they made as well. I feel like all I do is wash dishes. Very little else gets done in the house because I spend hours in the kitchen washing dishes and cleaning up everyone else's mess. I constantly tell them to do their dishes.... they never do! I tell them "if you're gonna cook you have to clean up your mess".... they never do! I've even told them that if they leave their dishes in the sink they will find them in their beds later.... I guess they know I could not bring myself to carry out this threat... and not that my daughter would notice.... her room is a pit!
So before I go do yet another overflowing sink full of dishes left from last nights snacking and cooking I wanted to vent....
But then I found a new Friday Frustration....
2 - Trying to figure out how this Mr Linky thing works.... I figured out that I didn't have to add it here to do the Friday Frustation thingy but I would like to participate in some other ones like maybe Music Monday. So after at least an hour of trying to figure this out (time I could've.... should've been doing those damned dishes!) I still don't know how to do it. So if someone out there can or will take the time to give me Mr Linky For Dummies-type instructions it would be greatly appreciated.
Now I'm off to do the dishes before it's time for me to cook dinner and then do the dishes again!
~A Lil Enchanted~
( but not with dishes.... grrrrr)