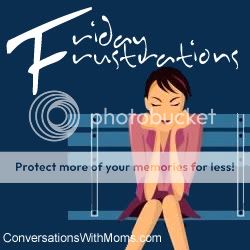 My Friday Frustration is ME!... I'm frustrated with myself because I'm spending way too much time on my computer and my house is a mess. It takes me most of the day to drop my EC's.... partly because my computer is old and slow... and partly because I stop dropping to read probably 75% of the blogs I drop on. Now I know that's a good thing for you other bloggers... and I really enjoy reading your blogs... if I didn't I wouldn't stop to read them! But I'm wondering how you all get your drops done so quickly??? If I stop dropping and reading for more than a few minutes here and there I just don't manage to get my 300 drops done. I'm using the EC tool bar to drop first on ECers who have dropped on my card... and then the ones I have marked in my favorites. Last night I was dropping like a mad woman until 12:00 trying to get all my drops in... and I only managed to get 276.
Since getting a new computer will not happen until at least Christmas.... maybe even longer.... I could really use some tips and tricks advice here. My kitchen floor is disgusting.... my closet needs cleaning out.... my bathroom needs a really good cleaning rather than the spot cleaning it's been getting... Steffie's closet needs organizing.... my bedroom needs a good deep cleaning.... my web business is totally neglected (not that it was making any sales anyways when I was putting in 8+ hours a day on it)..... the list goes on and on.... and all I'm managing to do is keep up with the laundry and dishes and cook dinner.... make the bed.... pick up everyone's clutter.... and take care of Steffie and spend some time with her. I try to tell myself that I shouldn't stress so much over dropping ECs.... but then I'm right back in here sitting at the computer dropping like crazy to get them all done. But I really appreciate EC and all of the droppers because I've found alot of great blogs by being using it.
So hopefully someone can give me some tips to help speed things up.... (or maybe the day will become 48 hours long so I can have more time to do all the things that need doing not likely huh?!)
Hope everyone has a great 4th of July Weekend!!!
~A Lil Enchanted~